Local

The crashes occurred as wintry weather hit the region Sunday and Monday. However, it's unclear if the weather played a role in some of the crashes.
At least three Massachusetts residents died in car crashes Sunday and Monday as a winter storm hit the region. However, the weather's role in the fatal crashes is unclear.
Meanwhile, in New Hampshire, state police said that by 2 p.m. Monday they'd responded to over 90 crashes across the state.
Three fatal crashes
The first fatal crash in Massachusetts happened around 7:10 p.m. Sunday in Fairhaven, according to the Bristol County District Attorney's Office. George Thatcher, 59, of Fairhaven was driving southbound on Main Street in a Chevy sedan when the car went into the opposite lane, near Hedge Street, and hit a Toyota SUV, officials said.
Thatcher was taken to Saint Luke's Hospital in New Bedford, where he was pronounced dead. The driver of the Toyota, a 36-year-old man, and his passengers — his 33-year-old wife and their two children, 4 and 1 — were also transported to the hospital with minor injuries, the DA's office said.
The second fatal crash happened around 9 p.m. Sunday in Worcester on I-290 after a 31-year-old Marlborough man lost control of his Honda Accord and spun out.
The car crashed into the median, but the man then began driving the wrong way on the highway and hit a Toyota Highlander head on, state police said. The Honda driver was pronounced dead at the scene, while the Toyota driver, a 24-year-old Worcester man, was taken to a nearby hospital with minor injuries.
The third fatal crash happened in Acton Monday morning around 11:45 a.m. Acton police said in a news release that they responded to a report that a pedestrian had been hit by a vehicle on Concord Road near Alcott Street.
Police said their initial investigation indicated that a dark-colored van hit the pedestrian before fleeing in an unknown direction. The driver later contacted police about the crash and was identified.
Police said the pedestrian was treated at the scene and taken to a local hospital, but ultimately died from their injuries.
Other crashes in Massachusetts
According to NBC10 Boston, a rollover crash involving a box truck happened on I-95 south in Wakefield just before midnight on Sunday, resulting in minor injuries.
Another crash happened on Revere Beach Parkway in Everett around 6:30 a.m. Monday involving two vehicles, the news station reported. One struck a pole; the injuries of the people involved had not been released.
NBC10 Boston also reported a three-car crash on Route 24 north in Freetown that happened just before 6 a.m.
WBZ-TV reported rollover crashes overnight in New Bedford on I-195 and in Weymouth on Route 3. It also reported a crash where a vehicle went off the road on I-290 in Northborough and a crash on I-95 north in Amesbury.
On Monday, MassDOT reported a crash that happened on Route 105 in Rochester around 3:30 p.m. and forced both of the lanes of the road to be closed.
The agency also reported a crash where a car hit a utility pole on Route 1A in Wenham around 4 p.m. and caused both lanes of traffic to be closed.
Crashes in New Hampshire
New Hampshire State Police said in a Facebook post Monday that between 5 a.m. and 2 p.m., troopers across the state had responded to over 90 crashes.
And several serious crashes happened on New Hampshire highways during the winter storm.
The first happened Monday morning in Londonderry on I-93 north when a car rolled over, causing injuries, state police said in a Facebook post.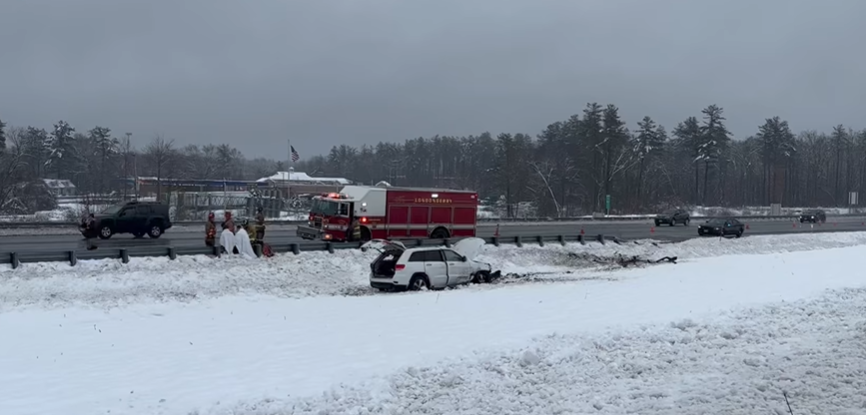 State police were called to another serious crash just after 10:30 a.m. In a news release, they said that a fully-loaded commercial car carrier had gone off the road on I-89 south in Warner.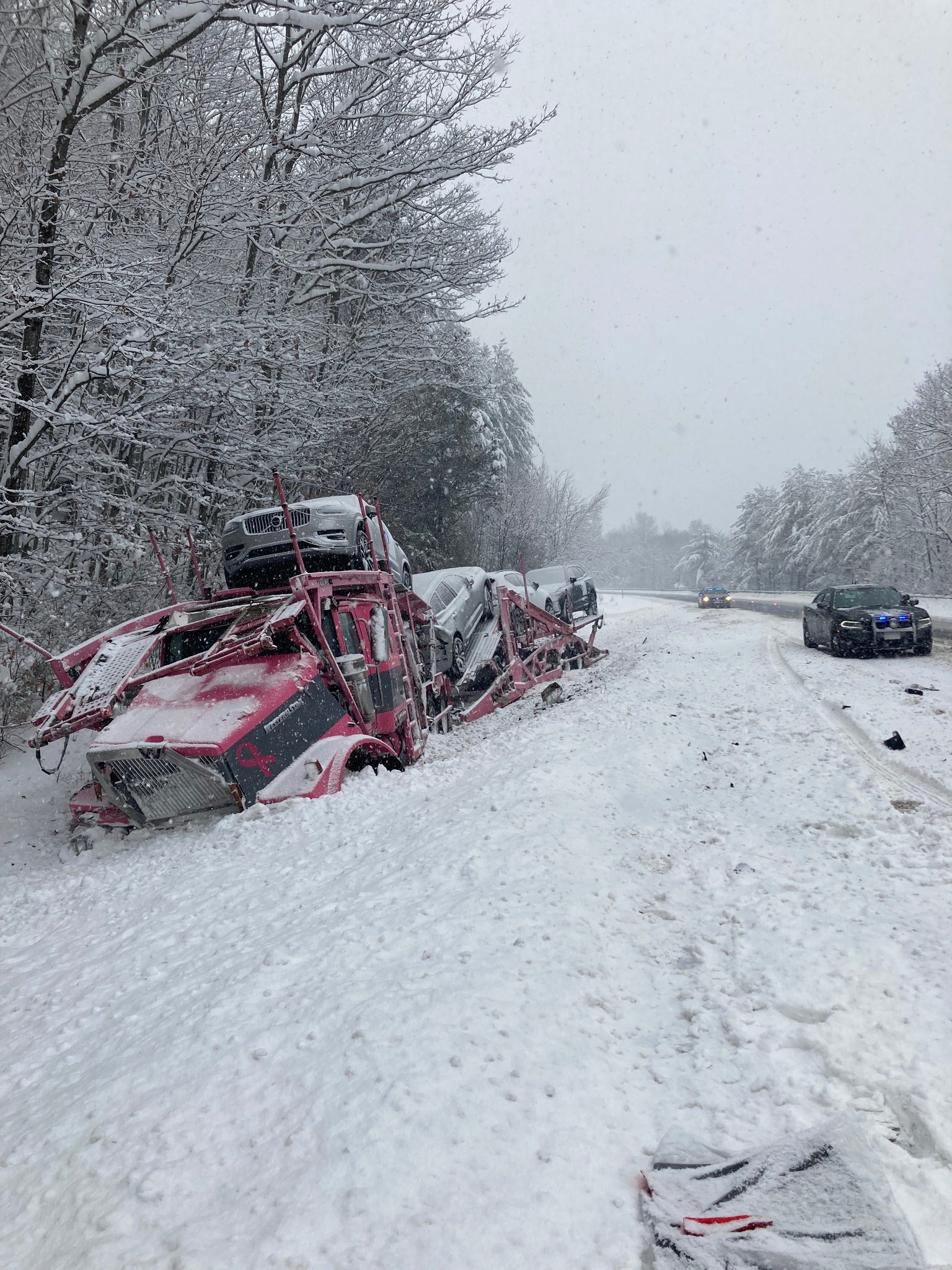 One of the vehicles on the carrier became dislodged and rolled off during the crash, landing in the rightmost lane of the highway, police said.
The driver, a 63-year-old Stamford, Connecticut, man, was taken to a hospital with minor injuries.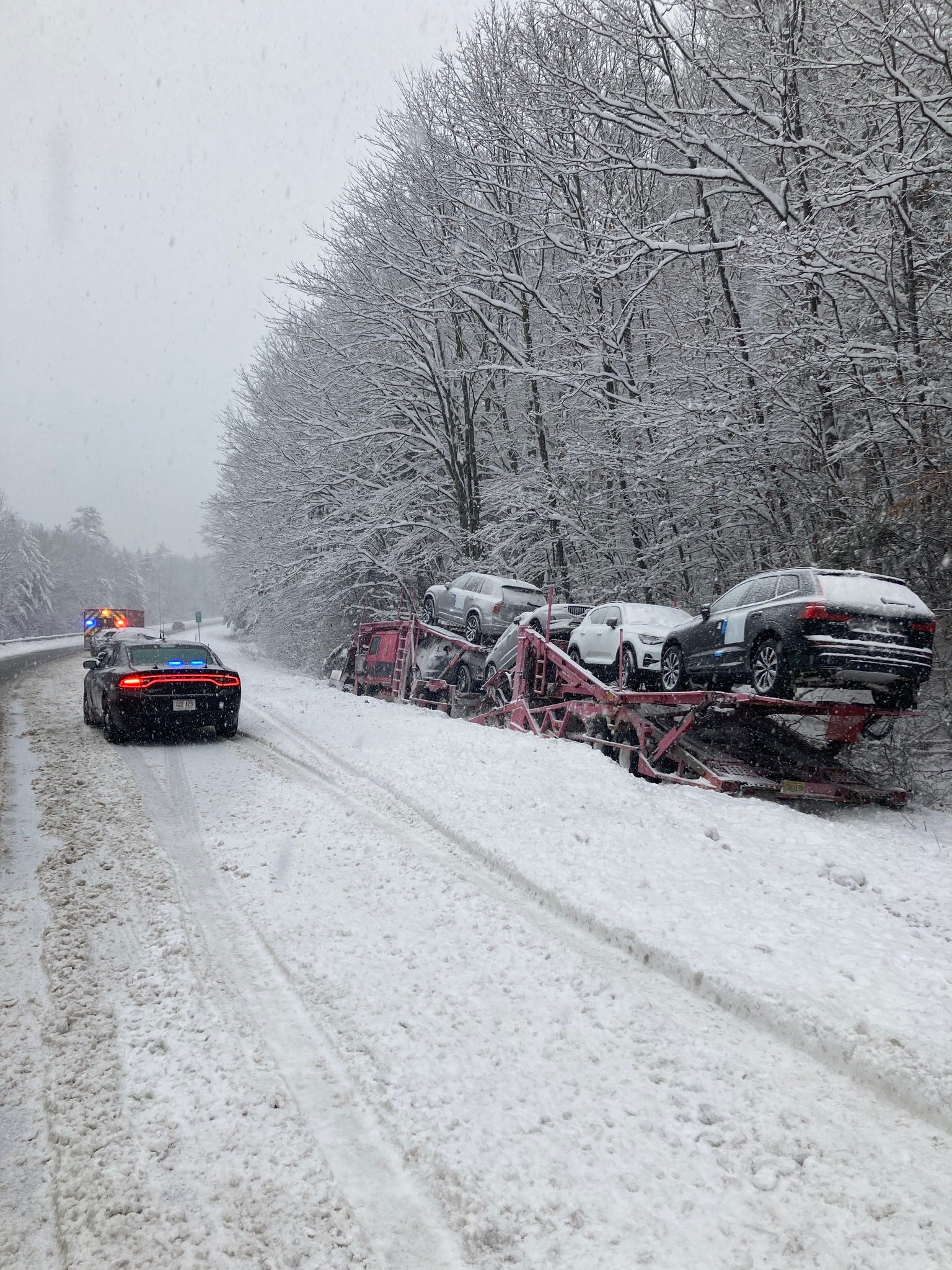 Later, around 1:15 p.m., the driver of a tractor-trailer — who was passing the road closure caused by the commercial car carrier — lost control of the truck, which then spun out, police said.
The truck crashed into a parked heavy-duty wrecker and a parked flatbed tow truck that were helping clear the road after the earlier crash.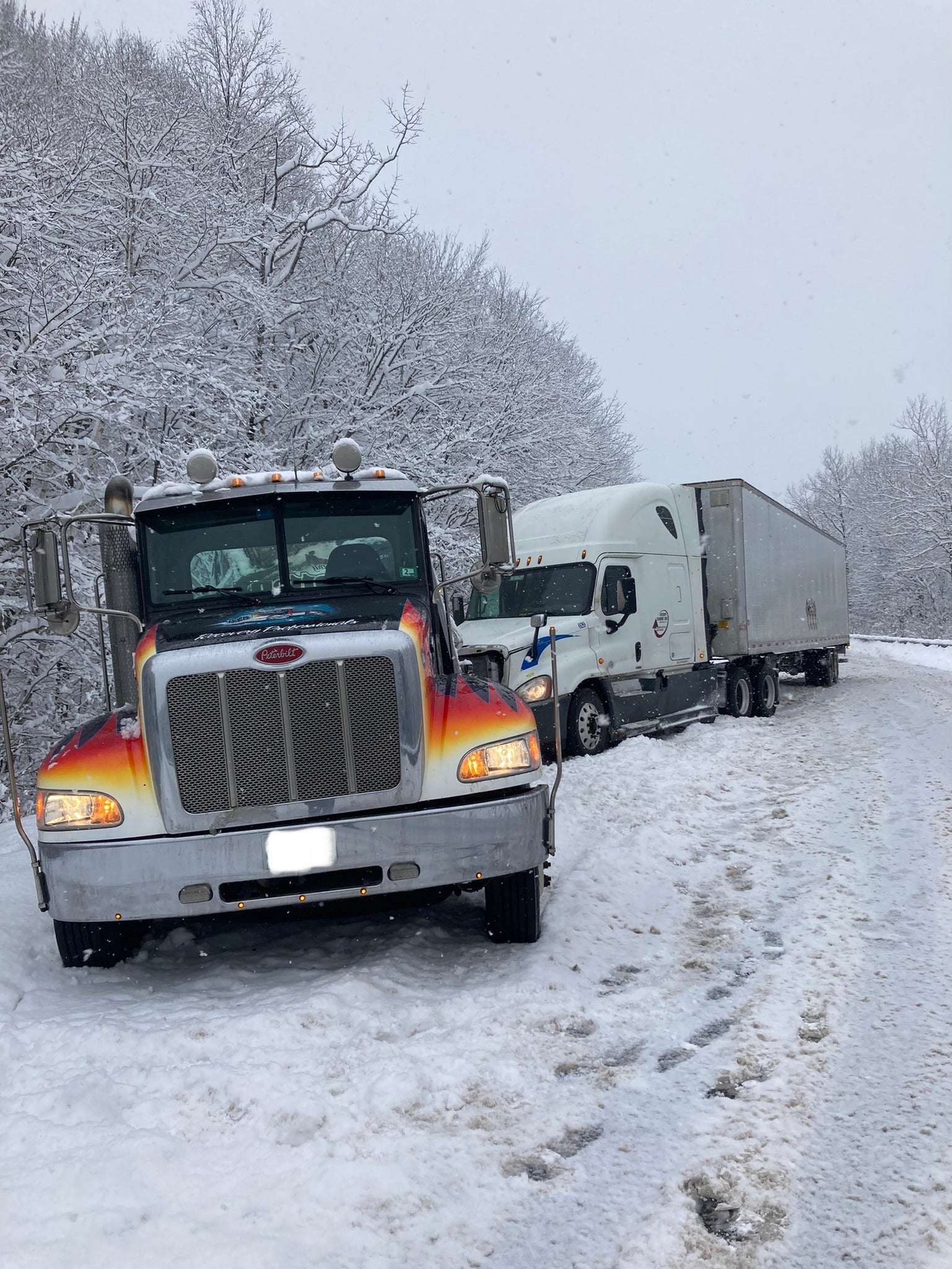 No one was in the parked vehicles when the crash happened, but several nearby workers had to move quickly to avoid the crash, police said.
The truck driver, 35-year-old Donnie Mack Hagins Jr., of Shelby, North Carolina, was cited for driving too fast given the current weather conditions.
Newsletter Signup
Stay up to date on all the latest news from Boston.com